Corporate Headquarters
Awareness Technologies
1391 Post Rd. East
Westport, CT 06880

PHONE: 1.888.224.1288 x4

+1 310 822-4557 x4

partner@AwarenessTechnologies.com

Read our FAQs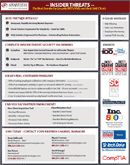 Download:
Insider Threats - The Next Frontier for Security MSPs/VARs and their SMB Clients


Partner Program
– Resell InterGuard
| | | |
| --- | --- | --- |
| ✔ | | Untapped Insider Threat Market |
| ✔ | | Brand Your Client Console |
| ✔ | | Unique All-Inclusive Software Suite |
Web Filtering
Employee Monitoring
Data Loss Prevention
Laptop Theft Recovery
InterGuard is the only Complete Insider Threat Prevention Platform delivered as a cloud service. Whether you offer each service module as a point solution or an integrated bundle, InterGuard leverages the cloud to deliver Web Filtering, Employee Monitoring, Data Loss Prevention and stolen Laptop Recovery through a single agent download and single web interface.



"Insiders are responsible for 70 percent of the security incidents that incur losses."


- Identity Theft Resource Center

Employees are either your customer's biggest asset or their biggest liability. According to the Ponemon Institute, over 60 percent of exiting employees walked out with company information while 30 percent of an employee's workday is spent on non-work related PC activity. What solutions can you offer your customers to provide them visibility to their employees PC activity and stop data leakage from happening?

What's in it for you as an MSP or Value-added Reseller?

Unique Offerings - differentiate your business from your competition by tapping into this new market segment. Ideal for new customer acquisition because it's fresh, it's relevant and it's now affordable for the SMB market
Partner Enablement - as a Partner you receive a full suite of online provisioning, support and demonstration tools. Want to brand the portals and marketing collateral - no problem. 24x7 technical support is available to you along with monthly or annual product SKU's.
What's in it for your Customers?

Reduced Costs - no hardware, no software, and no network is required. Elastic consumption means you can provision as many licenses as your customer needs - even as low as one license. And your value-add as a partner is the ability to provide your customer a single point of contact for for technical support, billing and four unique solutions.
Reduced Complexity - four unique point solutions can be offered as a single download and managed through a single web interface. Whether new/add-on licenses or evaluation licenses, they can be provisioned and installed at the end-point in less than 10-minutes.
Join Awareness Technologies Partner Program today!



It's simple - whether you want to bill and support your end customers or look for Awareness Technologies for those tasks, we have a partner category for you. For Partner's leveraging Awareness Technologies public cloud solutions, there are never any start-up fees or upfront licenses purchases. If you're a MSP looking to host the SaaS services yourself, we have a partner category for you too.

Call or email us today to learn more about Awareness Technologies Partner Program and how your organization will benefit from partnering with us.

+1 310 822-4557 x4 - International
888 - 224-1288 x4 - USA and Canada
partner@awarenesstechnologies.com




Click here

to visit our FAQ section.